Jacky Rosen Continues To Dodge Questions On Her Harry Reid Ties
First year Congresswoman Jacky Rosen (D-NV) might not have much experience, but she's got one politician skill mastered: dodging dangerous questions. Speaking with KUNR, Congresswoman Rosen was asked about "having close ties with former Senator Harry Reid," and spent her response talking about buffering software. Seriously: You've already drawn criticism, whether fairly or unfairly, with […]
October 25, 2017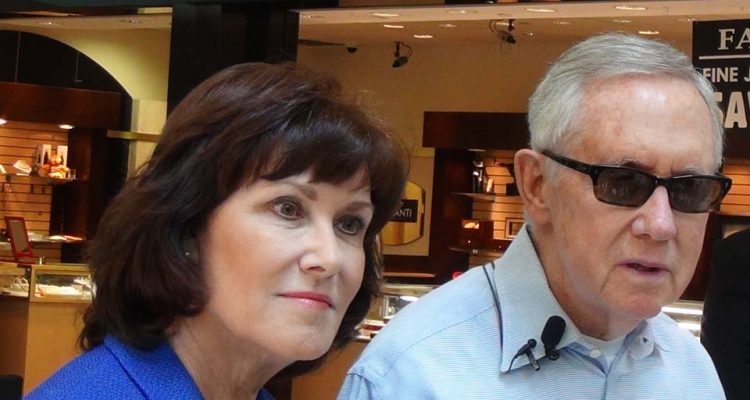 First year Congresswoman Jacky Rosen (D-NV) might not have much experience, but she's got one politician skill mastered: dodging dangerous questions. Speaking with KUNR, Congresswoman Rosen was asked about "having close ties with former Senator Harry Reid," and spent her response talking about buffering software. Seriously:
You've already drawn criticism, whether fairly or unfairly, with having close ties with former Senator Harry Reid and former Speaker Nancy Pelosi. Northern and rural Nevada tend to be far more conservative than Vegas. So how are you planning to present yourself or attract voters in those areas?
I started my career as a computer programmer system's analyst. What that means is that… We've all used some bad software, you get that buffering, buffering, buffering, and things go really slow when they don't work. How you write software is you listen, you look at every side because it all has to work and it all has to mesh together in the same way our communities do. So I feel like I'm a commonsense person who's going to listen to what people are anxious about and try to find the best ways to move our communities forward.
That's an answer that won't cut it next year. Reid also isn't doing Rosen any favors lately. Most notably, the former Senate Minority Leader spoke with Politico about how he "isn't done with politics — not even a little bit." Critically, Politico highlights the fact that Reid is "spending his days" working to help Rosen's Senate campaign:
"Ten months after his departure from Washington, Reid has carved out a significant behind-the-scenes advisory role for himself in guiding the future of his party, while strengthening his role as the mastermind of Democratic politics in his home state. He's no longer whipping votes or drawing headlines by knifing Trump: His day job is co-chairing an MGM Resorts-funded think tank with John Boehner. But Reid is also spending his days working to solidify his legacy here by electing a slate of Democrats in 2018, including Rep. Jacky Rosen in her bid to replace Republican Sen. Dean Heller."
In her answer to KUNR, Rosen wouldn't even say Reid's name, but Reid is out there telling Politico how closely he's working with her, and that he's a "big fan of Jacky Rosen's." Perhaps Reid doesn't understand that when he adds that he's "doing everything I can to help her," he's actually hurting her with Nevada voters. Reid's inability to see that he's going to be a serious negative for Rosen means this is one liability that isn't going away anytime soon.
Keep tabs on the Democrats. Sign up for news.
Keep tabs on the Democrats. Sign up for news.