Maine Senate Candidate Sara Gideon Repeatedly Broke Federal Election Law
Sara Gideon violated a federal election law that "explicitly prohibits individuals from making contributions in the name of another person or entity."
August 1, 2019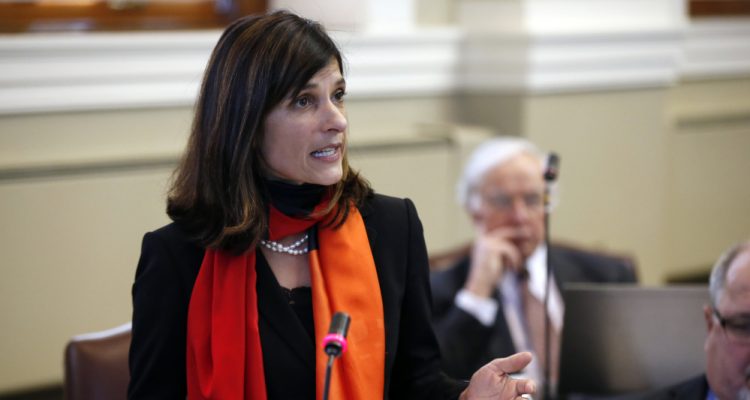 The DSCC's endorsed choice in the Maine Senate race — Sara Gideon — "repeatedly violated election laws by getting reimbursed for personal political contributions to federal campaigns through a corporate-funded Maine political action committee."
The Washington Free Beacon reviewed both state and federal campaign filings and found that Gideon violated a federal election law that "explicitly prohibits individuals from making contributions in the name of another person or entity."
Gideon's donation page even includes language that notifies contributors to the law.
Read more, including specific examples, from the Washington Free Beacon.
The Bangor Daily News has already picked up the story.
Collins Challenger Used PAC to Reimburse Own Contributions
Washington Free Beacon | Brent Scher
Maine Democrat Sara Gideon repeatedly violated election laws by getting reimbursed for personal political contributions to federal campaigns through a corporate-funded Maine political action committee, a review of both state and federal campaign filings discovered.
Federal election law explicitly prohibits individuals from making contributions in the name of another person or entity. The prohibition is spelled out on Gideon's own contribution page, which makes donors certify, "This contribution is made from my own funds, and funds are not being provided to me by another person or entity for the purpose of making this contribution."
Yet Gideon, the Senate candidate anointed by the Democratic establishment to challenge incumbent senator Susan Collins (R., Maine.), appears to have openly violated this prohibition on four separate occasions.
On September 30, 2015, for example, Gideon contributed $1,000 to Democratic congressional candidate Emily Cain's campaign, according to a Cain for Congress disclosure filing to the Federal Election Commission. A month later on October 28, 2015, Gideon received a $1,000 payment from Gideon Leadership PAC, a Maine entity. The payment was openly described on the Maine disclosure as a "reimbursement for federal contribution."
More specific examples are available further down in the article available here.

Keep tabs on the Democrats. Sign up for news.
Keep tabs on the Democrats. Sign up for news.