Menendez Keeps Pretending He Was Exonerated At Trial
One consequence of Senator Robert Menendez's indictment in 2015 was that he was forced to give up his leadership position on the prestigious Senate Foreign Relations Committee. Now, even though the Senate Ethics Committee has re-opened their probe into his conduct, he wants his old Foreign Relations post back: "Following the mistrial in his bribery […]
December 4, 2017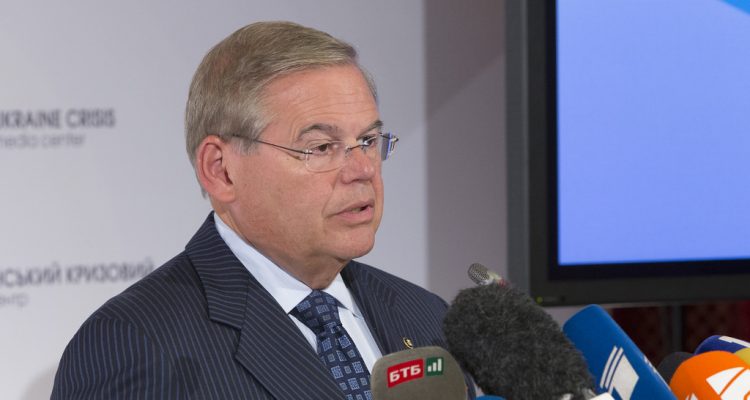 One consequence of Senator Robert Menendez's indictment in 2015 was that he was forced to give up his leadership position on the prestigious Senate Foreign Relations Committee. Now, even though the Senate Ethics Committee has re-opened their probe into his conduct, he wants his old Foreign Relations post back:
"Following the mistrial in his bribery case, Sen. Robert Menendez (D-N.J.) wants his job back as the top Democrat on the Senate Foreign Relations Committee. He stepped down from this position when he was indicted in 2015. Menendez is now angling to regain this prestigious and influential position—a bid backed by top Senate Democrats. But this move could get in the way of Democrats' efforts to highlight various ethics problems of the Trump administration."
Senator Menendez even has Senate Minority Leader Chuck Schumer (D-NY) behind him in his effort:
"Menendez's office told Mother Jones that Senate Minority Leader Chuck Schumer (D-N.Y.) has agreed that he can return to the foreign relations post if the Justice Department declines to try the Menendez again. Menendez recently made his case in a phone call with Schumer, who 'is supportive,' according to Enright. Though the Democratic caucus has to approve the move, Schumer's backing will likely ensure that Menendez can reclaim the position, several senators say. Schumer spokesman Matt House declined to comment."
Senator Menendez's resumption of the Ranking Member position on the SFRC would not be without its headaches. Already one of his fellow Democrats, Senator Claire McCaskill, has voiced her opposition to the move.
While Senator Menendez is focused on internal Senate politics, he's got a more serious problem looming. As a new poll showed last week, Senator Menendez is still politically radioactive in New Jersey. Given that, it's no surprise that primary challengers are already lining up to take him on next year. In what will soon be a pattern, the first Democrat to announce put the Senator's alleged misconduct front and center:
"An attorney who worked on the Hillary Clinton and Barack Obama presidential campaigns is considering a Democratic primary challenge to Sen. Bob Menendez. Michael Starr Hopkins, in an op-ed piece for the Washington publication 'The Hill,' wrote that New Jerseyans deserve 'the chance to vote for someone who hasn't been tainted by the culture of corruption in Trenton and Washington, someone who doesn't owe any favors to the political establishment or powerful interests.'"
Senator Menendez infamously said he wouldn't forget those who "were digging [his] political grave so they could jump into my seat." The quote has become so notorious in New Jersey that a patch with the threat on it has become the "must-have gift for New Jersey political mavens." For New Jersey voters, however, no patch can cover up the scarlet letter that has indelibly sullied Menendez's reputation.
Keep tabs on the Democrats. Sign up for news.
Keep tabs on the Democrats. Sign up for news.