Nelson Now Trails in Florida Senate Race
According to a new Mason-Dixon poll, Republican Governor Rick Scott has a 3-point lead over incumbent Democratic Senator Bill Nelson: "Scott leads Nelson 47-44 percent in the Mason-Dixon Polling & Research survey, a net shift of about 4 points in the Republican's favor since the firm's last poll in February when the race was a […]
July 31, 2018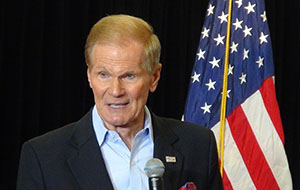 According to a new Mason-Dixon poll, Republican Governor Rick Scott has a 3-point lead over incumbent Democratic Senator Bill Nelson:
"Scott leads Nelson 47-44 percent in the Mason-Dixon Polling & Research survey, a net shift of about 4 points in the Republican's favor since the firm's last poll in February when the race was a dead heat. The margin of error for the poll of 625 registered Florida voters is plus or minus 4 percentage points. The poll was conducted July 24-25."
Nelson also trails by 4 points with independent voters without whom he cannot win the state.

Floridians know that Nelson is doing all he can to obstruct Judge Kavanaugh's confirmation by refusing to meet with him until after Judiciary Committee members meet with him. This move may score him political points with Chuck Schumer and other liberals, but will do little to prove to voters why he deserves a third term in office.
Keep tabs on the Democrats. Sign up for news.
Keep tabs on the Democrats. Sign up for news.