New York Times Investigation Exposes Cuomo's "Summer of Hell" Complicity
MTA's "Summer of Hell" was a terror for New York commuters and Governor Andrew Cuomo's poll numbers. This weekend, a New York Times investigation has exposed the large degree to which Governor Cuomo's years-long mismanagement of MTA contributed to this summer's crisis. As the New York Times laid bare, the problems with the New York […]
November 20, 2017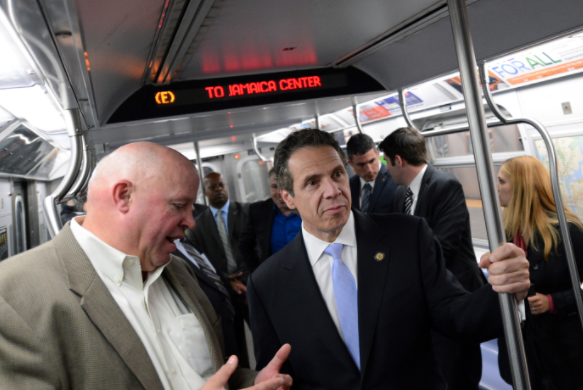 MTA's "Summer of Hell" was a terror for New York commuters and Governor Andrew Cuomo's poll numbers. This weekend, a New York Times investigation has exposed the large degree to which Governor Cuomo's years-long mismanagement of MTA contributed to this summer's crisis.
As the New York Times laid bare, the problems with the New York City subway are systemic and wide-ranging. There has been both wasteful spending, with "the average total compensation for subway managers has grown to nearly $300,000 a year," as well as poor performance. New York's subway now ranks as the "worst on-time performance of any major rapid transit system in the world." Notoriously, MTA has also been used as a slush fund for the pet projects of Governor Cuomo. Infamously, Governor Cuomo's administration had the MTA spend millions on ski resorts:
"In one particularly egregious example, Mr. Cuomo's administration forced the M.T.A. to send $5 million to bail out three state-run ski resorts that were struggling after a warm winter."
Equally indefensible was Governor Cuomo's mandate that MTA spend tens of millions "to study outfitting M.T.A. bridges with lights capable of choreographed display":
"Last year, Mr. Cuomo pushed the M.T.A. to spend nearly $1 billion on enhanced lighting, signs, countdown clocks and other upgrades at dozens of stations, many of which were not considered most in need of rehabilitation by M.T.A. leaders… Mr. Cuomo also pressured the authority to spend tens of millions of dollars to study outfitting M.T.A. bridges with lights capable of choreographed display, install wireless internet and phone-charging ports on buses and paint the state logo on new subway cars."
According to the Times, even when Governor Cuomo has actually tried to fix New York's broken transit system, he's just ended up making it worse. Transit leaders told the Times that Cuomo's efforts this summer "backfired":
"While many politicians have contributed to the decline of the subway over the years, the problems reached a fever pitch under Mr. Cuomo, who as governor appoints the M.T.A. chairman and effectively controls the authority. Mr. Cuomo, a Democrat who is expected to seek a third term next year and is also seen as a potential presidential candidate in 2020, tried to stave off the emergency by committing additional funding to capital construction and getting involved in decisions about how to spend it. But several transit leaders said that the interference backfired, and that the governor would have helped more if he had introduced any legislation to boost funding for core maintenance."
During the heat of the "Summer of Hell," Governor Cuomo's poll numbers dropped by double digits. As Governor Cuomo's incompetent handling of this massive problem continues to make headlines, this is going to be a major campaign issue for voters next year.
Keep tabs on the Democrats. Sign up for news.
Keep tabs on the Democrats. Sign up for news.