One Year Into Perez's Tenure, DNC Still A Conflict-Riven Catastrophe Of Incompetence
DNC Chairman Tom Perez has been on the job for one year. In that time, according to Politico's in-depth examination of Perez's tenure, he's managed to change the bad situation the DNC faced before him and turn it into one where some Democrats are starting to question "if the DNC has a place at all […]
January 16, 2018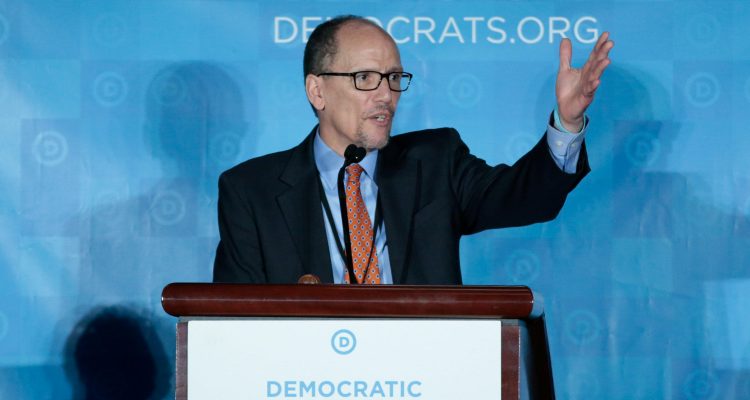 DNC Chairman Tom Perez has been on the job for one year. In that time, according to Politico's in-depth examination of Perez's tenure, he's managed to change the bad situation the DNC faced before him and turn it into one where some Democrats are starting to question "if the DNC has a place at all anymore":
But going into a midterm election that should be the Democrats' to lose, the DNC is still struggling to bring its factions together and assert itself. Throw into the mix powerful super PACs, the much better funded party committees focused on Congress and governors, and more independent voters than ever, and many wonder if the DNC has a place at all anymore.
Underscoring Perez's failure, the DNC is still preoccupied with handling the still-significant tensions between Clinton and Sanders supporters:
It's hard to overstate the scale of his task. The DNC has become every frustrated Democrat's favorite piñata, and a symbol of everything that went wrong in 2016. Sanders-Clinton hostilities have taken on a new form: The tension now is over whether Sanders should hand over his massive voter list to the committee, as Perez has asked, and whether the committee has gone far enough to overhaul internal rules that Sanders forces are convinced rigged the nomination for Clinton. Neither side is satisfied, and words like "crazy," "still doesn't get it," and, in one case, "Judas are tossed around to describe people in the opposite camp.
Epitomizing the DNC's inability to unify the Democratic Party is Bernie Sanders' handling of his campaign email list. Though the list has been long-desired by the Party, Sanders' former campaign manager Jeff Weaver told Politico that the DNC would, under no circumstances, hand over the list:
Weaver said, though, that there won't ever be a point when Sanders gives the DNC access to his voter data. "I don't think you should expect that to happen. If people think the Sanders list is just an ATM, they're sadly mistaken," he said. "It's a list of millions of people who are motivated by a certain policy agenda. If they think it can be easily transferred, I think it's a fantasy."
It's hard to imagine Perez's first year at the DNC going any worse.
Keep tabs on the Democrats. Sign up for news.
Keep tabs on the Democrats. Sign up for news.