Pelosi Wraps Up Her Crumbs Tour By Calling Tax Cuts Unpatriotic
Today, Nancy Pelosi is wrapping up her tax crumbs tour in San Francisco. Just yesterday in Phoenix, Pelosi called the tax plan "unpatriotic": Pelosi said that instead, Republicans passed the GOP tax bill in the dead of night so that America people would not know about the legislation, allowing Republicans to "pin a rose on […]
February 21, 2018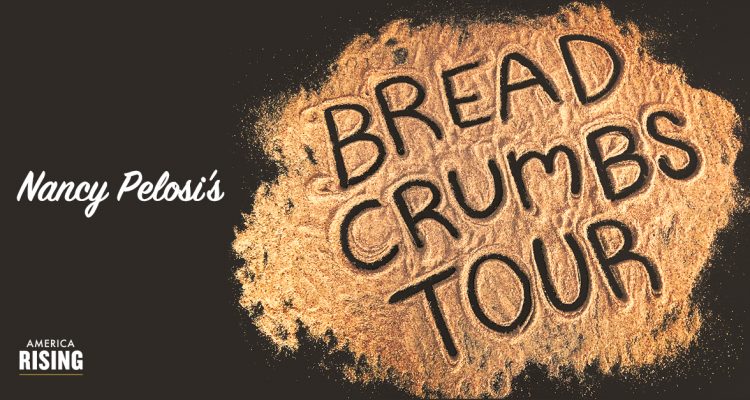 Today, Nancy Pelosi is wrapping up her tax crumbs tour in San Francisco. Just yesterday in Phoenix, Pelosi called the tax plan "unpatriotic":
Pelosi said that instead, Republicans passed the GOP tax bill in the dead of night so that America people would not know about the legislation, allowing Republicans to "pin a rose on it," as she described it.

"If what you're doing is cutting the taxes at the high end and therefore not being allowed to invest in the future, you're doing a grave disservice to our country," Pelosi said.

A participant at the town hall interjected that it was unpatriotic.

"It's unpatriotic," Pelosi agreed. "I wish we could have come together to do a fair tax bill, but it is about our country."

Pelosi then said that the GOP tax bill was "undermining" American democracy.
This new characterization comes after Pelosi has been criticized by both Republicans and Democrats for for using the term "crumbs" to describe the tax cuts, wage increases, bonuses, utility rate cuts, and new employment benefits Americans are seeing thanks to the GOP tax reform plan.
At the same event, Pelosi dodged questions about her own wealth as she decried the tax plan's benefits for working Americans:
From belittling hard working American families to showcasing Democratic disunity, Nancy's tour has only succeeded in revealing the Democrats' crummy midterm strategy. At America Rising, we're sad to see this political horror show come to an end.
Keep tabs on the Democrats. Sign up for news.
Keep tabs on the Democrats. Sign up for news.