Prosecutors: Menendez Used "Currency Of His Senate Office" To Pay For Gifts
Next week, the corruption trial of Senator Robert Menendez (D-NJ) begins. Even with the trial just days away, Senate Democrats have done everything possible to avoid talking about Menendez's corruption. That's become harder to avoid now that prosecutors have started to lay out their case against the New Jersey Democrat. The severity of the charges […]
August 31, 2017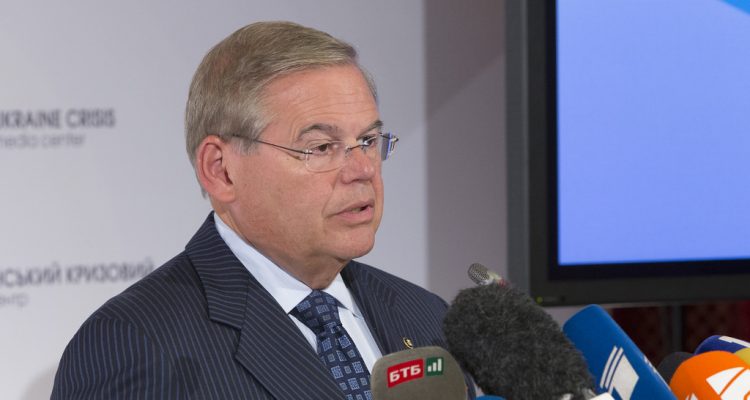 Next week, the corruption trial of Senator Robert Menendez (D-NJ) begins. Even with the trial just days away, Senate Democrats have done everything possible to avoid talking about Menendez's corruption. That's become harder to avoid now that prosecutors have started to lay out their case against the New Jersey Democrat.
The severity of the charges is only magnified by the details of what prosecutors have unveiled. According to reports, Menendez's corruption started as soon as he was elected to the Senate in 2006:
"Menendez and Melgen are accused of having a 'quid pro quo' relationship going as far back as 2006. Prosecutors say that in exchange for luxurious vacations and large donations to his campaign coffers, Menendez used his power to advocate for various personal and business interests of Melgen's within the government. Jurors will also hear from many different witnesses, including Menendez staffers, State Department officials and even pilots who flew the private jet Menendez allegedly flew on as a part of his lavish, Melgen-sponsored vacations."
Damningly, prosecutors write that Menendez "paid" for the allegedly illicit gifts using the "currency of his Senate office":
"'Although Menendez did not pay Melgen back for the lavish gifts in money, he did pay him back using the currency of his Senate office to take official action to benefit the South Florida doctor,' prosecutors wrote. Email exchanges between the defendants, their agents, and officials from Executive Branch agencies will show Menendez's considerable efforts to pressure the Executive Branch on Melgen's behalf. And testimony from the agency officials over whom he exerted that pressure will illuminate the relentlessness of those efforts.'"
The Menendez trial also has the potential to ensnare other senior figures in the Democratic Party into Menendez's legal and ethical woes, including former Senate Majority Leader Harry Reid. According to Bloomberg, Menendez tried to use Reid's influence to help Melgen:
"U.S. Senator Robert Menendez, in trying to help a campaign donor who was accused of overbilling the government, enlisted then-Senate Majority Leader Harry Reid to "amplify the pressure" on the Obama administration, the Justice Department said. Reid contacted a White House staffer, who declined to help, prosecutors disclosed Wednesday in a court filing."
By their silence, Senate Democrats continue to show that they value Menendez's Senate seat more than they value good government. As the trial draws closer, their silence on Menendez's future will become even more deafening for voters tired of politics-as-usual.
Keep tabs on the Democrats. Sign up for news.
Keep tabs on the Democrats. Sign up for news.