Red State Dems Silent on Upcoming Haspel Vote
Gina Haspel now has enough votes from Democratic Senators to be confirmed as head of the CIA. Yet, three Democratic Senators from states that Trump won – Jon Tester, Debbie Stabenow, and Bob Casey – have been silent on whether or not they'll be supporting her nomination. These senators are more interested in winning favor […]
May 16, 2018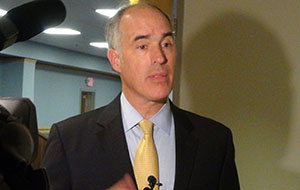 Gina Haspel now has enough votes from Democratic Senators to be confirmed as head of the CIA. Yet, three Democratic Senators from states that Trump won – Jon Tester, Debbie Stabenow, and Bob Casey – have been silent on whether or not they'll be supporting her nomination. These senators are more interested in winning favor with the far-left than they are in protecting our national security interests.
Gina Haspel has received praise from former CIA Directors John Brennan and Leon Panetta, who both served under Obama. In a letter to the Senate Intelligence Committee, Brennan and Panetta along with other intelligence community leaders wrote:
"Ms. Haspel's qualifications to become CIA Director match or exceed those of most candidates put forward in the Agency's 70-year history. She has spent more than 30 years of her life quietly serving America and the CIA, routinely stepping up to handle some of the most demanding assignments around the globe. Ms. Haspel is a proven leader who inspires other and has what it take to make touch calls in times of crisis."
She has also been endorsed by editorial boards across the country.
USA Today: "Without question, Gina Haspel is unequivocally the right person to lead the CIA at this crucial moment in history. Both her long-term record of distinguished service and her professional and poised testimony before the Senate on Wednesday make that abundantly clear."
Chicago Tribune: "Haspel gets rave reviews from former national security officials from Democratic and Republican administrations, and is said to be strongly supported by agency employees."
Richmond Times-Dispatch: "Everyone who has considered her record agrees that she is supremely qualified to head the Central Intelligence Agency. Over the course of three decades, she has risen through the ranks from station chief to deputy director. Her colleagues sing her praises and even her foes acknowledge her abilities."
With Haspel's confirmation nearly set in stone, the question remains: will Tester, Stabenow, and Casey confirm Haspel or will they hold out appease the progressive wing of the party?
Keep tabs on the Democrats. Sign up for news.
Keep tabs on the Democrats. Sign up for news.