Roster Of Potential Cuomo Primary Challengers Grows
Governor Andrew Cuomo (D-NY) has long had tremendous problems with the liberal wing of the New York Democratic Party. One way that's manifested itself is in the ever-growing list of people looking to primary him next year. Already actress Cynthia Nixon, Syracuse Mayor Stephanie Miner, and former State Senator Terry Gipson have been floated as […]
August 14, 2017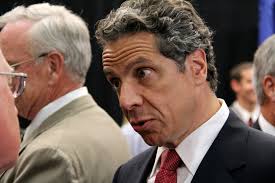 Governor Andrew Cuomo (D-NY) has long had tremendous problems with the liberal wing of the New York Democratic Party. One way that's manifested itself is in the ever-growing list of people looking to primary him next year. Already actress Cynthia Nixon, Syracuse Mayor Stephanie Miner, and former State Senator Terry Gipson have been floated as potential opponents.
Now the New York Daily News reports that one of the "farthest left" New York City Councilman Jumaane Williams is sounding out people for support:
"City Councilman Jumaane Williams is the latest name to surface as a possible 2018 Democratic primary challenger to Gov. Cuomo. The Brooklyn Democrat, considered one of the council's farthest left, on Sunday told the Daily News he's been approached by various people asking him to think about a run for governor. Williams did not rule it out, even though he said right now he is '100% solely focused' on running for the City Council speakership that opens in January. But he added, 'it's hard in politics to use the 'never' word.'"
Speaking with the Daily News, Williams was not afraid to hit Governor Cuomo from the left, while also highlighting the Governor's MTA incompetence:
"'I think we're in some pretty dangerous times and the governor isn't helping so it's, important that somebody at some point step up to say the emperor has no clothes and really push the guy,' he said. He ripped Cuomo for the MTA mass transit crisis, accused him of 'emboldening a Republican state Senate majority' by not doing enough to reunify fractured Senate Democrats, and knocked his support for charter schools and big-money hedge fund donors."
Governor Cuomo's political weakness has never been more apparent, and with that weakness, will come ambitious politicians looking to take advantage of it. With no end in sight to Cuomo's political misfortune, the number of people looking to challenge him next year is only going to increase.
Keep tabs on the Democrats. Sign up for news.
Keep tabs on the Democrats. Sign up for news.