July 3, 2018
Schumer Misses Town Hall- Should Have Taken #AirClaire!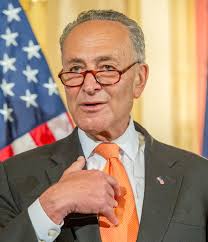 Yesterday, Senate Minority Leader Chuck Schumer cancelled his Brooklyn town hall meeting at the last minute claiming plane problems. He chose to phone in to a tele-town hall instead, which didn't go unnoticed at a time when progressive tensions are running high:
Politico: Schumer takes heat after canceled town hall
Washington Post: Liberals tell Schumer to scrap decorum and civility in battling Trump
New York Times: Schumer Misses Town Hall In Brooklyn, But Still Feels The Heat
Schumer got an earful from liberal activists on resisting President Trump, specifically when it came to the Supreme Court nominating process.