Senate Democrats Show How Unserious They Are About Fixing Obamacare
Unfortunately for Americans suffering under Obamacare, Senate Democrats have taken no serious interest in the important task of replacing Obamacare. Their lack of interest is evident in Senate Minority Leader Chuck Schumer's stance that Democrats will offer no amendments on the Senate bill. Politico put it best when they said, "Senate Democrats are taking their […]
July 27, 2017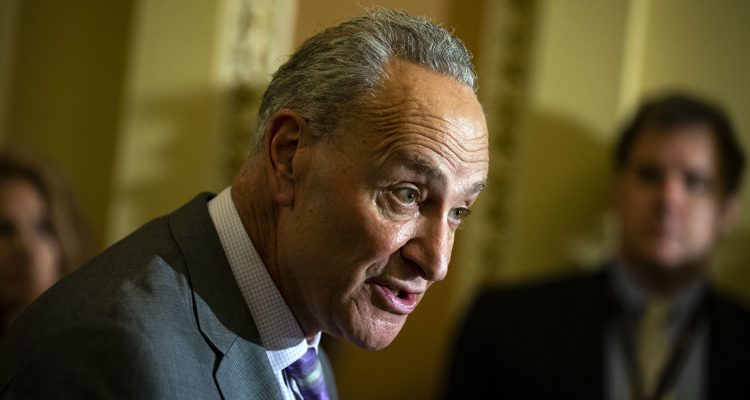 Unfortunately for Americans suffering under Obamacare, Senate Democrats have taken no serious interest in the important task of replacing Obamacare.
Their lack of interest is evident in Senate Minority Leader Chuck Schumer's stance that Democrats will offer no amendments on the Senate bill. Politico put it best when they said, "Senate Democrats are taking their ball and going home."
Senator Schumer's no-amendments tactic just is another example to show the American people how unserious Democrats have taken this entire process. Also not helping Senate Democrats' cause is the prospect of finally voting on a single-payer bill. Senator Chris Murphy (D-CT) demonstrated how extreme Democrats are acting when he admitted Senate Democrats didn't want to do anything to help fix the bill.
All year, Senator Bernie Sanders (I-VT) has been pressuring the entire Democratic Party to support his extreme, budget-busting plans, and now that he has a chance to vote on it, he's passing:
"A spokesman for Sen. Bernie Sanders (I-Vt.) said Wednesday night that he and other members of the Democratic caucus would reject an amendment to the Republican health-care bill designed to smoke out support for single-payer health care. The amendment proposed by Sen. Steve Daines (R-Mont.), said a Sanders spokesman, was a 'sham' that could be ignored."
Bernie's position has the potential to be fatal to red state Democrats."
This afternoon, Senators Joe Donnelly (D-IN) and Bill Nelson (D-FL) — both of whom have tough reelection fights next year — ducked questions on single-payer. Vulnerable Senate Democrats are in an impossible bind: capitulate to out-of-touch, liberal donors in New York and San Francisco, represent voters back home, who are clamoring for an overhaul of the failed Obamacare system.
Keep tabs on the Democrats. Sign up for news.
Keep tabs on the Democrats. Sign up for news.