Sinema: Arizona Is Crazy & The "Meth Lab Of Democracy"
Despite running in the hopes of representing the Arizona in the U.S. Senate, Kyrsten Sinema has a serious disdain for the people she wants to elect her. Yesterday, an old video was uncovered where she was caught calling Arizonans "crazy": BREAKING: LEAKED VIDEO: in a 2011 speech in TX, Democratic Senate candidate @kyrstensinema mocks Arizonans […]
October 12, 2018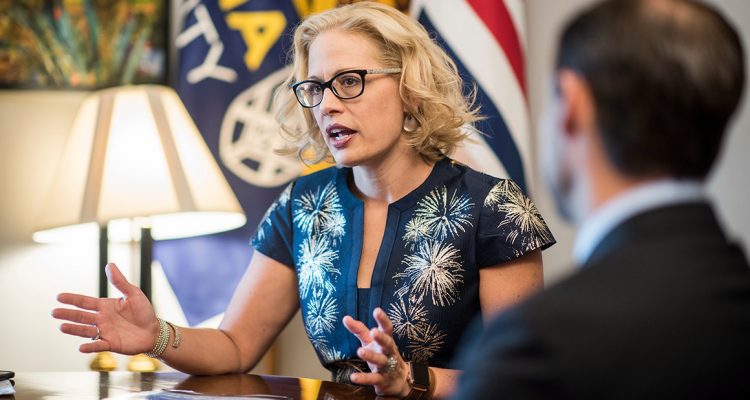 Despite running in the hopes of representing the Arizona in the U.S. Senate, Kyrsten Sinema has a serious disdain for the people she wants to elect her. Yesterday, an old video was uncovered where she was caught calling Arizonans "crazy":
BREAKING: LEAKED VIDEO: in a 2011 speech in TX, Democratic Senate candidate @kyrstensinema mocks Arizonans as "Crazy" and calls Arizona the "crazy" state. pic.twitter.com/fArBGddn16

— The Reagan Battalion (@ReaganBattalion) October 11, 2018
SINEMA: "Over the past several years, people would watch what has happened to Arizona be like, 'Damn, those people are crazy. Is it something about the water?' No, the water is fine, we stole it from Colorado… I was born and raised in Tucson near the border. When we grew up I remember in first grade we learned a song about Arizona. Arizona is the state of the five C's: cattle, copper, citrus, cotton, and climate. And those were the five things that our state historically made its money off of. But I would add a sixth C, it's called 'crazy.'"
Today, another video has surfaced where she referred to the state as "the meth lab for democracy":
SINEMA:"The states are the laboratories of democracy, and my state, Arizona, is clearly the meth lab of democracy."
CNN also uncovered today that Sinema once said in a local radio interview that she "didn't care" if someone wanted to join the Taliban:
"By force?" Hancock asked. "By me, as an individual, if I want to go fight in the Taliban army, I go over there and I'm fighting for the Taliban. I'm saying that's a personal decision…"

"Fine," Sinema interjected, "I don't care if you want to do that, go ahead."
Arizona voters will see through her phony moderate image that she has tried so hard to mold this election cycle. Kyrsten Sinema is a far-left radical who will not represent the best interests of Arizonans in Washington.
Keep tabs on the Democrats. Sign up for news.
Keep tabs on the Democrats. Sign up for news.