Steyer-Funded Debates Will Push Democrats Further Left
Liberal California billionaire Tom Steyer announced yesterday his organization will be hosting debates in Democratic primaries across America. Steyer, who has spent most of the last year demanding Democrats call for President Trump's impeachment, also plans to endorse in some of those races: Billionaire Tom Steyer has a plan to leave his mark on this […]
March 29, 2018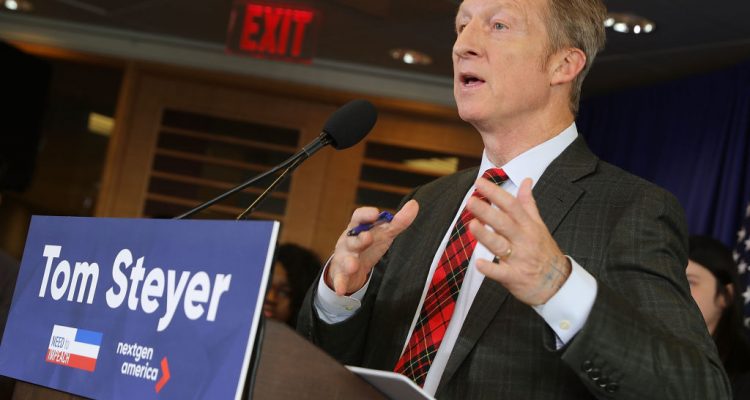 Liberal California billionaire Tom Steyer announced yesterday his organization will be hosting debates in Democratic primaries across America. Steyer, who has spent most of the last year demanding Democrats call for President Trump's impeachment, also plans to endorse in some of those races:
Billionaire Tom Steyer has a plan to leave his mark on this year's Democratic primaries. NextGen America, the Steyer-run advocacy group, is planning 15 Democratic primary debates in House and gubernatorial races across the country through the summer. The goal is to help young voters — NextGen's target audience — distinguish between the candidates, and the debates might serve as a precursor to NextGen endorsing in some of these primaries.
Steyer's new involvement in Democratic primaries will only worsen the fight between liberals and centrists for control of the party. These debates will especially make matters worse for national Democrats, who are already worried about damaging primary campaigns, as candidates are forced to move further to the left:
Despite Steyer's efforts on impeachment, he said there would be "no specific litmus test" for a candidate endorsement by NextGen. "We're going to be looking to see if people are going to step up and tell the truth, or if they're going to be trying to basically run a Republican-lite campaign."
With this effort to take over the Democratic party for his own political gain, Tom Steyer will once again hurt Democrats in the midterms.
Keep tabs on the Democrats. Sign up for news.
Keep tabs on the Democrats. Sign up for news.