August 29, 2017
Tax Reform Underlines Joe Manchin's Lose-Lose Situation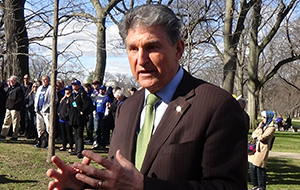 Senator Joe Manchin is a Democrat in a state that doesn't elect Democrats anymore. While that's enough of a problem to keep any politician up at night, Manchin is now forced to navigate a progressive primary challenge, as well. Add both these problems up, and Manchin is "in a fight for his political life":
"As West Virginia Sen. Joe Manchin runs for reelection for his second full term, he's facing a growing liability: The 'D' next to his name. A well-known Democrat in a state that's shifted to the right, Manchin is in a fight for his political life as he tries to survive in the Trump-era. Republicans view his seat as a prime pick up opportunity as they try to expand their fragile Senate majority. Meanwhile, Manchin has drawn both progressive ire and a long-shot primary challenger."
When the Senate comes back from August recess next week, Manchin will have to navigate his perilous political positioning, most notably on tax reform. Already progressive groups are already threatening Manchin if he works with Republicans on tax reform:
"But any move to work with Republicans on tax reform, which is expected to only need a simple majority to pass the Senate, would likely inflame progressives. Outside groups aiming to keep Manchin with the party line are already laying down goalposts 'If he becomes a swing vote on tax reform, or other things, that could lose him some of that goodwill,' Hickey said."
Actions like this showcase how far to the extreme left the Democratic Party is moving. The political fight also highlights that no matter what Manchin does this year, some important groups will be angry with the embattled West Virginia Senator.