The Consumer Financial Protection Bureau Became a Revolving Door Thanks to Elizabeth Warren
Warren created a 'Cottage Industry' of former CFPB executives who worked for private industry they used to regulate.
December 9, 2019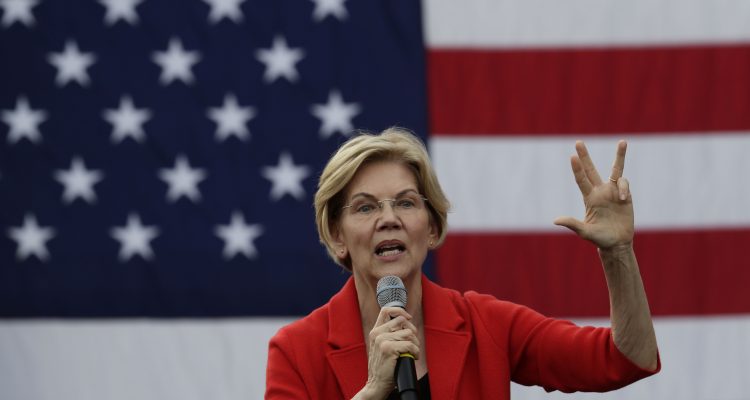 This morning the Daily Beast published a look inside Elizabeth Warren's recruiting efforts that resulted in stacking the Consumer Financial Protection Bureau with staffers whose resumes reflected financial services executives more than consumer advocates.

Daily Beast: "Instead of limiting staff to those with extensive background in consumer activism and regulatory policy, she chose people with places like Deutsche Bank, Morgan Stanley, and Capital One on their CVs.


"Those financial institutions were the very entities that the CFPB was supposed to haunt. The agency had been included in financial regulatory reform as a wishlist item for Wall Street-skeptical progressives. And yet, here was Warren—the intellectual godmother of the CFPB—handing out key roster assignments to officials from those very institutions."

Many of the staffers that Warren brought into the CFPB from various financial services industries hopped back into the revolving door, and joined private industry where they worked on issues identical to what they specialized at the CFPB.

Daily Beast: "While Warren plucked talent from the financial services industries, the relationship became even more intertwined over the subsequent years. Nearly half of the senior officials—nine out of the 21—mentioned in that report would go on to work in financial services, or for law or consulting firms with expertise and clientele in the sector, after their tenure at the CFPB.


"Roberto Gonzalez, for instance, served as the agency's deputy general counsel before becoming a partner at the law firm Paul Weiss Rifkind Wharton & Garrison LLP. He "represents financial institutions and other companies in high-stakes litigation, investigations and advisory matters," according to the law firm's website, which boasts that he helped 'a major U.S. bank in connection with a favorable settlement with the CFPB.'

…
"It's precisely that sort of demand that fuels Washington's revolving door, and has created a cottage industry of former regulators who cash out to the industries they once regulated. Such moves can create perverse incentives for government employment: Those who go into public service in the hope of landing a lucrative private sector career afterward may be just as willing to side with industry in the hope of future pay as former industry lobbyists and executives who move into government positions."

The difference between Warren's rhetoric on the trail and her history as the head of CFPB will surely end up being a point of contention in the Democratic primary, especially given that she has attempted to ingratiate herself so closely with the progressive left.

Daily Beast: "It's the sort of "revolving door" between government industry that Warren has decried as a progressive stalwart in the Senate and a leading candidate for the Democratic presidential nomination. And it could complicate her efforts to make the CFPB a cornerstone of her White House bid by drawing cries of hypocrisy from campaign rivals."

Read the full Daily Beast story here.
Keep tabs on the Democrats. Sign up for news.
Keep tabs on the Democrats. Sign up for news.