The Democrats' Dumpster Fire Week, A Summary
Multiple battles have broken out in increasingly expensive and acrimonious Democratic primary contests across the country. The DCCC is taking sides in primaries as Democrats attempt to "out-left" each other as prove their blue credentials. It all started in Texas, when the DCCC openly attacked progressive Democrat Laura Moser: And then the Democratic party in […]
February 26, 2018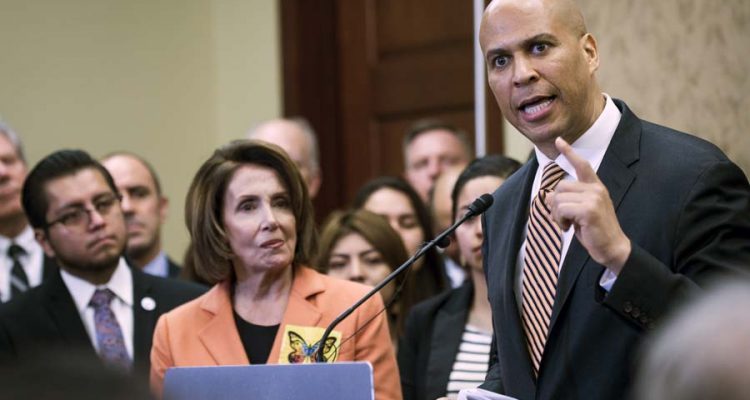 Multiple battles have broken out in increasingly expensive and acrimonious Democratic primary contests across the country. The DCCC is taking sides in primaries as Democrats attempt to "out-left" each other as prove their blue credentials. It all started in Texas, when the DCCC openly attacked progressive Democrat Laura Moser:
And then the Democratic party in California refused to endorse sitting Democratic Senator Dianne Feinstein:
"Senator Dianne Feinstein suffered a setback in her effort to win a sixth term representing California as the state Democratic Party declined this weekend to endorse her re-election bid.

…

A candidate must garner the support of 60 percent of the delegates to win the party's nomination. None of the candidates running for statewide election met that threshold.

Still, Ms. Feinstein's showing was particularly stark given her status as a Democratic institution. Mr. de León drew 54 percent of the vote, or 1,508 votes, compared with 37 percent, or 1,023 votes, for Ms. Feinstein."
At the same gathering, Democrats failed to get behind one candidate in some of the state's most competitive House districts. The few endorsements that they did manage to make at this disastrous affair were contested. The lack of endorsements will do nothing to assuage Democratic concerns that crowded primaries are hurting their chances to take back the House.
Meanwhile in Illinois, national House Democrats are refusing to back a member of their own caucus, as he battles a challenge from the far left, despite a commitment from DCCC Chair Ben Ray Lujan to back the Blue Dog Democrat incumbent in the race.
As these contests unfold across the country, one thing is clear: giddy talk of a coming "blue wave" must be tempered with the ugly reality that the eventual Democratic nominees will not come out of these contests unscathed.
Keep tabs on the Democrats. Sign up for news.
Keep tabs on the Democrats. Sign up for news.