Warren Under Fire For Attacking Fellow Democrats, As She Makes A Big 2020 Move
Massachusetts Democrat Barney Frank is criticizing Warren's attacks on her fellow Democrats for their support of a bipartisan banking reform bill: Some Democrats are also concerned. Barney Frank, who helped write Dodd Frank when he was representing Massachusetts in Congress, said he was surprised to see Warren call out the Democrats voting for the bill […]
March 8, 2018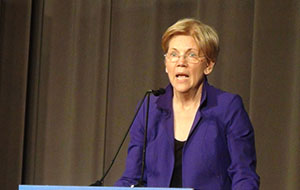 Massachusetts Democrat Barney Frank is criticizing Warren's attacks on her fellow Democrats for their support of a bipartisan banking reform bill:
Some Democrats are also concerned. Barney Frank, who helped write Dodd Frank when he was representing Massachusetts in Congress, said he was surprised to see Warren call out the Democrats voting for the bill by name and thinks she made a "mistake" doing so.

"These are people who voted against [Supreme Court Justice Neil] Gorsuch, most of them," Frank said of the Democrats garnering Warren's ire. "They support abortion rights, LGBT rights, most of them are strong on the climate change issue. To let a fairly small difference over one issue provoke an angry fight is self-defeating for our fight to win back the Congress."

Frank said he believes naming the Democrats sent the message Warren wanted to "punish" Democrats who backed the changes.
The Boston Globe: "Senator Elizabeth Warren blasted out a political hit list of senators voting to 'roll back the rules on the biggest banks' to her many followers this week, signaling to the liberal resistance which lawmakers to target. Nothing unusual about that — except 16 of those lawmakers are Democrats."
The New York Times: "Senate Advances Bill to Loosen Banking Rules, Revealing Democratic Split"
The Boston Globe: "Why Elizabeth Warren is calling out her Democratic colleagues over a new bank bill"
Meanwhile, last night, Elizabeth Warren made her "first big national political move" by announcing she was donating $265,000 to Democratic parties across the country. Warren may want state party leaders to think she is playing nice, but her attacks on Senate Democrats in Washington not only exacerbates the Democratic civil war taking place across the country but threatens the vulnerable Senate incumbents that some of these state parties are desperately trying to protect.
Keep tabs on the Democrats. Sign up for news.
Keep tabs on the Democrats. Sign up for news.