"Washington Joe" Lives On $700k Yacht In The Swamp
Senator Joe Manchin pretends to be on the side of his constituents back in West Virginia, but in reality he's turned into "Washington Joe." It doesn't get much swampier than owning a $700,000 luxury yacht that sits on the Potomac River in D.C. The Washington Examiner hit the nail on the head when it comes […]
August 7, 2018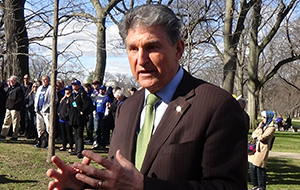 Senator Joe Manchin pretends to be on the side of his constituents back in West Virginia, but in reality he's turned into "Washington Joe." It doesn't get much swampier than owning a $700,000 luxury yacht that sits on the Potomac River in D.C.
The Washington Examiner hit the nail on the head when it comes to the yacht:
"It is a populist gut punch that hits Manchin where it especially hurts. The candidate cherishes his outsider status on Capitol Hill going to great pains to paint himself as a down-the-middle moderate. Now his fancy yacht could sink that image because Manchin has a long and not-exactly distinguished nautical history…If Manchin can't come up with a decent answer for his boating, it might sink him."
West Virginia voters know that the campaign messages of bipartisanship and moderate values are nothing more than "Washington Joe" touting election year rhetoric.
Keep tabs on the Democrats. Sign up for news.
Keep tabs on the Democrats. Sign up for news.