September 22, 2017
WATCH: Are Democrats Trying to Muzzle Bernie on Single Payer?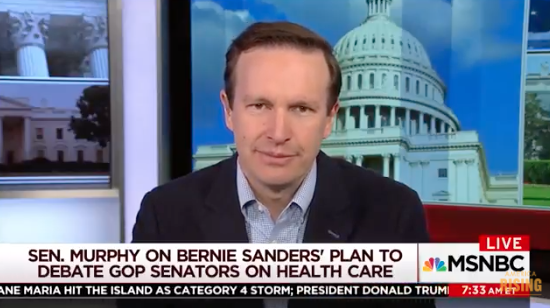 Single payer may be a well-received topic on the donor circuit in New York and San Francisco, but it's certainly not as welcome around kitchen tables in the rest of the country. A recent NBC/WSJ Poll revealed just how little appetite Americans have for Senator Bernie Sanders' socialist fantasy.
And despite the 2020 Democratic hopefuls' cheerful desire to follow Bernie off of this cliff, it appears that national Democrats are cognizant of the negative impact all of this single payer talk can have on the imperiled 2018 Senate Democrats.
Check out this awkward exchange on "Morning Joe" today when Senator Chris Murphy (D-CT) was questioned about the upcoming healthcare debate:
WILLIE GEIST: Senator, good to see you this morning. I want to ask you about the debate around Graham-Cassidy—a proposal and bill you called an intellectual garbage truck fire. There's a debate scheduled for Monday night between Sanders, Klobuchar versus Graham and Cassidy. Bernie Sanders will be talking about single payer. Do you think, given the fact that I assume you have Graham and Cassidy where you want them, you have medical groups coming out against Graham-Cassidy and insurance companies against Graham-Cassidy. Now the Medicaid association representing all 50 states against Graham-Cassidy—do you think that debate is a good idea for your side?
SEN. MURPHY: Well, I actually don't think that Bernie Sanders is going to be talking about single payer health care on Monday night.
MIKA BRZEZINSKI: You don't?
SEN. MURPHY: No. I think he's going to be talking about why Graham-Cassidy is such an immediate threat to the country.
JOE SCARBOROUGH: Has Bernie told you that, Chris?
SEN. MURPHY: Well, no. I've actually heard that from Bernie's folks. That their focus is going to be on Graham-Cassidy. I think he understands that what we need to do next week is make the American public understand the humanitarian disaster that comes with 32 million people losing insurance, with rates going up by 20%. I know that Republicans want to make the announcement of Bernie's single payer idea the excuse for why they're moving this bill forward. But that's not true.
GEIST: But senator, isn't Sen. Sanders giving them the opportunity to do that? You know they're going to be asked questions. Bernie Sanders isn't going to run the debate. He's going to be asked questions about why his idea for a single payer system in America is an alternative – a better alternative – than Graham-Cassidy.
SEN. MURPHY: I think he's going to be a very effective advocate. I think he's going to be a very effective critic against a piece of legislation that right now enjoys a 24% approval rating in the American public.
Sure sounds like Senator Murphy is trying to force Bernie's hand in moving the conversation away from single payer. Democrats know that Bernie's radical ideas are unpopular with a vast majority of Americans, and they are terrified about the consequences in next year's most competitive races. The real question becomes: what are Democrats going to do in their 2020 primary when all of their contenders publicly backed single payer?