Weekend Warren Roundup: Denies 2020 Run & Resists DNA Test
Senator Elizabeth Warren made the rounds on the Sunday shows this weekend to attack fellow Democrats for voting in favor of a bipartisan bill, dodge questions about a run for president in 2020, and repeat the same increasingly criticized talking points on her Native American heritage claim. Warren's non-answer on her heritage is coming under […]
March 12, 2018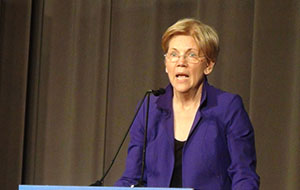 Senator Elizabeth Warren made the rounds on the Sunday shows this weekend to attack fellow Democrats for voting in favor of a bipartisan bill, dodge questions about a run for president in 2020, and repeat the same increasingly criticized talking points on her Native American heritage claim.
Warren's non-answer on her heritage is coming under fire after the liberal editorial board at The Berkshire Eagle, which endorsed Sen. Elizabeth Warren in 2012, called for her to take a DNA test.
Instead of heeding calls from her home state, Warren repeated the same family anecdote:
New York Post: "Asked whether she'd take an ancestry test, Warren said she wants to hold onto the folklore of her parents' love story.
"My mother and daddy were born and raised in Oklahoma," Warren said. "My daddy first saw my mother when they were both teenagers. He fell in love with this tall, quiet girl who played the piano. Head over heels. But his family was bitterly opposed to their relationship because she was part Native American. They eventually eloped."
She said her parents survived the Great Depression and other hardships as they raised her and her three brothers.
"That's the story that my brothers and I all learned from our mom and our dad, from our grandparents," Warren said. "It's a part of me and nobody's going to take that part of me away."
But Warren's story has come under scrutiny for relying on family lore rather than official tribal documentation of Native American heritage.
Warren's answer on a potential 2020 run doesn't pass the smell test either:
USA Today: "Massachusetts Sen. Elizabeth Warren, D-Mass. said Sunday she's not running for president on NBC News' "Meet the Press," but it wasn't exactly a full-throated denial.
Warren refused to "pledge" to serve her full six years in the Senate if reelected despite being pressed several times by Todd.
"I am in this fight to retain my Senate seat in 2018. That's where I'm focused. That's where I'm going to stay focused," Warren said in the interview. "I'm not running for president."
Keep tabs on the Democrats. Sign up for news.
Keep tabs on the Democrats. Sign up for news.