July 13, 2018
Will Minnesota House Democrats Join Sanders And Ellison Today?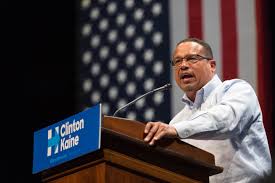 This morning, Bernie Sanders is in Minneapolis to campaign for Rep. Keith Ellison's bid for Attorney General. While it is unclear if Democratic House candidates, including Dean Phillips, Angie Craig, and Dan Feehan, will be in attendance, the event raises questions about where they stand.
Ellison, who has become the lead for the single-payer bill in the House, just last week called for ads to be run to pressure Democrats who don't support the single-payer bill.
Bernie Sanders also made news last week when he joined calls to restructure immigration enforcement, touting his vote against ICE, and called for an abolishing the current immigration system. This comes after Ellison was filmed at a May Day parade earlier this year wearing a shirt stating "I don't believe in borders."
Will these House Democratic candidates join the progressive leaders of their party in supporting these radical policies? Or will they speak up against these harmful proposals?