2020 Hickenlooper: Questions Raised Around Alleged Trip on Tesla Jet Prior to Seeking New Emission Rules
Governor John Hickenlooper is facing new questions about a trip he allegedly took on a corporate jet. In a letter sent by state Sen. John Cooke, he details the flight on a jet owned by Tesla which took place right before Hickenlooper ordered new emission standards in the state. As a reminder, this comes on […]
November 16, 2018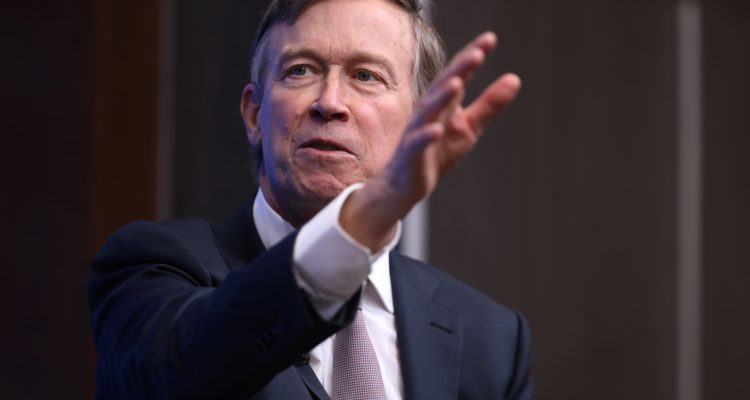 Governor John Hickenlooper is facing new questions about a trip he allegedly took on a corporate jet. In a letter sent by state Sen. John Cooke, he details the flight on a jet owned by Tesla which took place right before Hickenlooper ordered new emission standards in the state. As a reminder, this comes on the heels of the CO Ethics Commission agreeing to investigate a complaint that Hickenlooper took trips on private planes without disclosing the gifts.
Attorney general asked to review Gov. Hickenlooper's alleged trip on Tesla jet prior to seeking new emission rules
November 16, 2018
Colorado's attorney general is being asked to look into a trip Gov. John Hickenlooper allegedly took to visit Tesla Automotive's Nevada facility for making electric cars just before ordering the state to take up low-emission vehicle standards.

The trip was allegedly on a corporate jet owned by Tesla or its co-founder and CEO, Elon Musk, according to a letter Sen. John Cooke sent Thursday to Attorney General Cynthia Coffman.

Hickenlooper's office on Thursday said the claims were false.

Cooke, the senate's majority whip and a Greeley Republican, said the trip has "a terrible appearance of impropriety," largely because Tesla would stand to benefit from the executive order and because Hickenlooper didn't report the free travel as required by law, according to a copy of the letter obtained by The Denver Post.

"If any government official receives an illegal benefit days before unilaterally changing the law to financially benefit that same corporation, the matter warrants immediate review," Cooke wrote to Coffman.

Cooke was not specific about when the trip occurred, but wrote that Hickenlooper "communicated to multiple individuals" about traveling on a private jet to Tesla's facility.

Read the full article here.
Keep tabs on the Democrats. Sign up for news.
Keep tabs on the Democrats. Sign up for news.