"Angry" Menendez Hung Up On Bureaucrat For Not Helping Melgen
The details about what exactly Senator Robert Menendez (D-NJ) did to earn his allegedly illegal private jet flights and luxury hotel stays is slowly being filled in for the jury in Senator Menendez's corruption and bribery trial. Yesterday, Jonathan Blum, a former principal deputy administrator for the Centers for Medicare and Medicaid Services, took the […]
October 3, 2017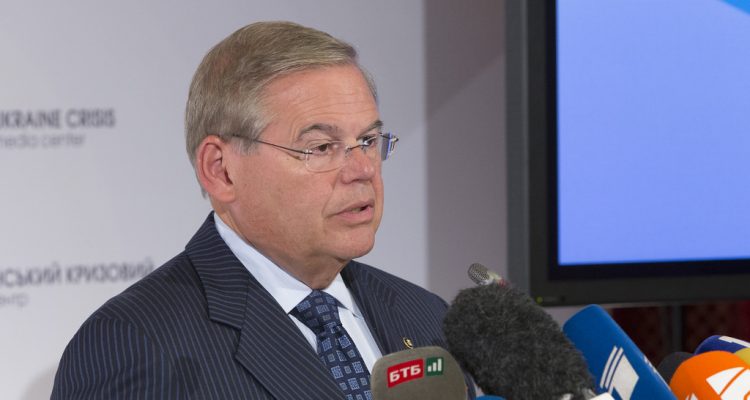 The details about what exactly Senator Robert Menendez (D-NJ) did to earn his allegedly illegal private jet flights and luxury hotel stays is slowly being filled in for the jury in Senator Menendez's corruption and bribery trial. Yesterday, Jonathan Blum, a former principal deputy administrator for the Centers for Medicare and Medicaid Services, took the witness stand to talk about Senator Menendez's angry advocacy on behalf of his co-defendant Salomon Melgen.
According to Blum, Senator Menendez became so incensed during one call concerning Melgen's issues that he actually hung up on Blum:
"U.S. Sen. Robert Menendez was so angry that a federal bureaucrat wasn't giving him the answers he wanted on his friend's Medicare billing dispute that he hung up on him, according to testimony Monday at Menendez's federal corruption trial."
Blum also told the jury about a similarly impassioned Menendez during a meeting with former Senator Minority Leader Harry Reid and former Health and Human Services Secretary Kathleen Sebelius:
"And Mr. Menendez, a Democrat from New Jersey, maintained a similar angry disposition during a meeting in 2012 with Senator Harry Reid and Kathleen Sebelius, who at the time was the secretary of Health and Human Services, according to Jonathan Blum, who participated in the call and in the meeting, and who took the witness stand in a federal courtroom here on Monday."
Blum's testimony is so critical because it highlights the central reason why Senator Menendez is in such big legal trouble: what besides the illicit gifts and payoffs would motivate Senator Menendez, of New Jersey, to so energetically engaged on the issues of Salomon Melgen, of Florida? Blum told the jury that he even "pressed our staff" to try to figure out the connection between Menendez and Melgen:
"Blum said Melgen's name was never brought up during the conversation, but that based on briefing materials from the call, it was clear the issue had to do solely with doctor. 'I was very curious why the senator was focused on this case and asked the staff several times,' Blum said. 'The senator is from New Jersey. The physician is based in Florida. I pressed our staff several times on the connection between the senator and Dr. Melgen.'"
The answer according to the prosecution, is clearly that Senator Menendez was "earning" his illicit gifts by using his power as a United States Senator to enrich Melgen. The jury heard details of that in spades yesterday, making the silence of Menendez's fellow Democrats even more troubling.
Keep tabs on the Democrats. Sign up for news.
Keep tabs on the Democrats. Sign up for news.