Candidates Risk Forfeiting the Battlefield to the Elizabeth Warren and Joe Biden Show
Warren and Biden Have Faced Little Resistance from their Primary Opponents, Here's the Path to Scoring Points on the Frontrunners
October 15, 2019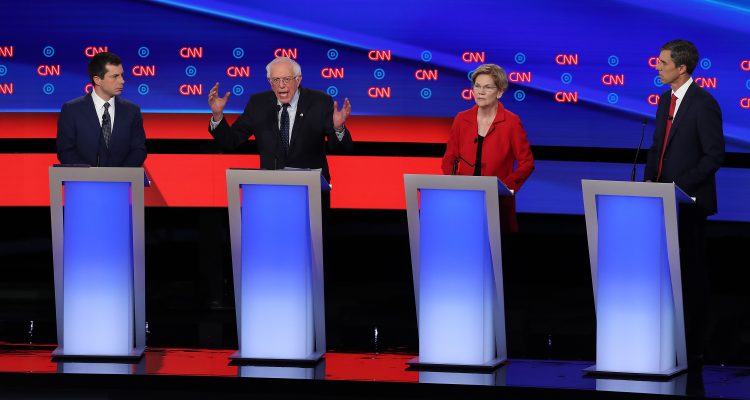 Tonight's debate is the first in which Elizabeth Warren joins Joe Biden as an unmistakable frontrunner who has separated from the pack. Now, the other ten candidates on stage risk becoming background noise to the Warren-Biden show if they don't step up to the plate. 

Both Biden and Warren are ripe for attacks from the other candidates. Here are some avenues the candidates should take to stop the momentum of Warren, and continue to chip away at Biden.

Elizabeth Warren: Champion of the People, Or Ruthless Corporate Consultant?
Is Elizabeth Warren really a champion of the everyday American, or is she just another highly paid corporate consultant who has consistently put herself ahead of those who need help?

Her work on behalf of Dow Chemical in their fight to limit payments to women who got sick from the company's silicone gel breast implants points to a self-serving corporate consultant and away from her campaign message.

Washington Post: "She was on the wrong side of the table," said Sybil Goldrich, who co-founded a support group for women with implants and battled the companies for years. Goldrich said Dow Corning and its parent "used every trick in the book" to limit the size of payouts to women. The companies, she added, "were not easy to deal with at all."


"A person familiar with Warren's role who spoke on the condition of anonymity to describe litigation strategy said the future senator was part of a Dow defense team that had containing the company's liability as a goal."
Is Warren Really with Bernie or Simply Pandering to the Medicare for All Activists?
Elizabeth Warren has said that she is with Bernie on Medicare for All, but has yet to engage in the details when asked by voters. In fact, she spent a weekend in New Hampshire primarily dodging questions from voters concerned by Medicare for All.

With Pete Buttigieg launching a new ad campaign targeting Bernie Sanders and Warren on Medicare for All, you can bet it will come up tonight. Will Warren be able to repel the attacks from Buttigieg?

Vice: "Hours before tonight's Democratic debate in Ohio, Pete Buttigieg is swiping at the Achilles heels of two of the highest-polling candidates in the race.


"The campaign of the South Bend, Indiana mayor just launched a new ad buy in Iowa, hitting Sens. Elizabeth Warren (D-Mass.) and Bernie Sanders (I-Vt.) over their support of Medicare for All, the single-payer insurance plan that would nationalize healthcare in the U.S."

Will Voters Believe Joe Biden's Family Didn't Cash in on his Government Service?
Joe Biden's son Hunter has been in the news as he has resigned from the Board of Directors of a Chinese-backed private equity firm and reporters dig into his web of foreign business interests.

Hunter is not alone as Joe's younger brother James has consistently exploited the family name and proximity to the former VP to line his own pockets.

The Intercept: "In 2006, BEAU Biden, who died of cancer in 2015, was roped into an investment meeting led by James and Hunter Biden, at the firm Paradigm Global Advisors. The family was considering acquiring the firm, and James Biden told executives there he'd have no problem bringing in people looking for an in with Joe Biden, who was a U.S. senator at the time. "We've got people all around the world who want to invest in Joe Biden," James Biden told officials with the firm, according to a Politico Magazine investigation."

Uneven Debate Performances Have Stunted Biden's Campaign, Can Rivals Capitalize?
Biden has seen Elizabeth Warren join him in being considered a "frontrunner" for the nomination, but the directions of their momentum are the dominating narratives. Warren's rise in the polls has been bolstered by Biden's inconsistent performances on the debate stage and the campaign trail.

September: Boston Globe: "But he remained a wobbly front-runner after demonstrating yet again his propensity for gaffes and rambling answers — including one odd reference to a record player — that have fueled questions about his age and mental acuity."

July: NY Mag: "Despite his strong polling lead in Iowa and on the national level, some local party figures expressed concern this weekend about Biden's onstage performance and the notion of his electability. (As the candidate characterized himself in December: "I am a gaffe machine.") 'He isn't as compelling verbally,' the Madison County party chairman told the Washington Post. 'There is starting to be a real fear that he cannot hold his own in the debate against Donald Trump.'"

June: The Economist: "The debate in Miami, in which Mr. Biden appeared alongside nine other candidates, was his first big opportunity to allay it. He failed that test so resoundingly that his performance was at times painful to watch.

If candidates continue to hold their attacks and allow the frontrunners to skate by, it brings into question whether any of them are actually trying to win or if they're simply using the primary stage as a tryout for the cabinet, a cable news gig, or the podcast network.
Keep tabs on the Democrats. Sign up for news.
Keep tabs on the Democrats. Sign up for news.