Cuomo Bows To The Pressure On His Tainted Weinstein Contributions
After a tortuous week spent defending his decision to hold onto $60,000 of Harvey Weinstein's campaign donations, Governor Andrew Cuomo (D-NY) finally did the right thing and announced that every penny of Weinstein's money would go to charity. The announcement marks a 180 degree change for Governor Cuomo who, until yesterday, was strongly defending his […]
October 13, 2017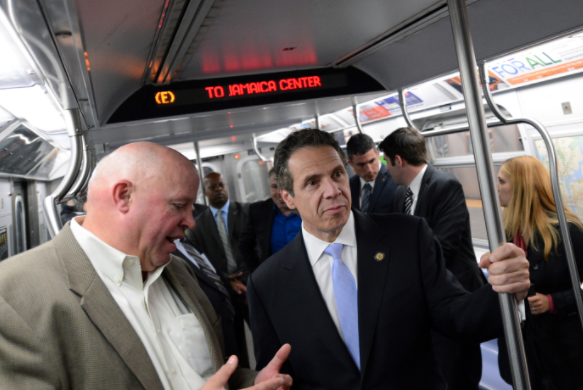 After a tortuous week spent defending his decision to hold onto $60,000 of Harvey Weinstein's campaign donations, Governor Andrew Cuomo (D-NY) finally did the right thing and announced that every penny of Weinstein's money would go to charity. The announcement marks a 180 degree change for Governor Cuomo who, until yesterday, was strongly defending his decision to hold onto the money.
Governor Cuomo's position was made even more untenable yesterday by the strong statements from his frequent antagonist Mayor Bill de Blasio. Mayor de Blasio, who never misses an opportunity to twist the knife when it comes to Governor Cuomo, said "no one in their right mind" should keep any of Weinstein's money:
"De Blasio added, 'My message to everyone who has current accounts with money from Harvey Weinstein is give that money back — give it to charity. Get the hell away from it. No one in their right mind should be keeping contributions from Harvey Weinstein.'"
While de Blasio has had his own issues with returning Weinstein's donations, his sharp comments were certainly a factor in Cuomo's reversal.As the chorus of negative commentary began to grow, Cuomo was finally forced to concede that his position was indefensible. Summing up all of the bad coverage, New York Playbook wrote Governor Cuomo's actions this week were "insulated," "blinded to political reality," "cheap," and "stubborn":
"But he's also the kind of executive who can become insulated, and blinded to political reality. He's slow to spend his campaign cash — political operatives call him cheap — and, most importantly, stubborn. This week the price was at least $68,000 — and some bad press."
Capitol Tonight's Liz Benjamin added that Governor Cuomo's actions were "simply patently ridiculous." Governor Cuomo has clear national ambitions, but this week's tone-deaf, inexcusable actions will undermine those aspirations before the campaign even starts.
Keep tabs on the Democrats. Sign up for news.
Keep tabs on the Democrats. Sign up for news.