September 26, 2017
ICYMI: Bernie's been leashed. What does that mean for the 2020 Dems who followed him?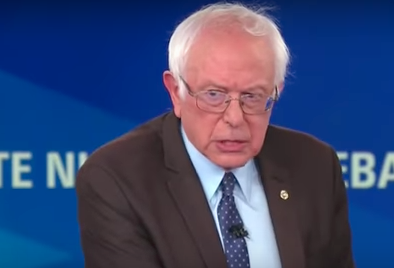 Last night, during CNN's health care town hall, Senator Bernie Sanders (I-VT) wanted to make something clear right from the very start: he only speaks for himself when it comes to promoting single-payer health care.
His demure admission is a far cry from the jubilant announcement Sanders held just a few weeks ago unveiling his socialist fantasy. According to a report from CNBC, Sanders had considerably more passion for single payer at that event than he demonstrated last night:
There was also a distinctly campaign-like vibe at the hourlong rollout, with supporters cheering and holding signs. Sanders contributed to the energy, telling the crowd that the launch was the start of a national grass-roots campaign. "Our job now is to take this legislation to every state in the country and hear what the people have to say."
So, what changed in just two weeks? Democratic Party leaders panicked at the idea of having to defend the deeply unpopular single payer idea on national television. Some even tried to publicly muzzle Bernie to prevent him from dragging the entire Party down his path of destruction. Remind anyone of the summer of 2016?
According to Bernie, he stands alone. The problem for Democrats is that he doesn't – literally. At his 'Medicare for All' announcement, the smiling faces of 2020 Democratic hopefuls like Senators Elizabeth Warren (D-MA), Kirsten Gillibrand (D-NY), and Cory Booker (D-NJ) could all be seen prominently situated next to the progressive kingmaker. Ambitious Democrats may have rushed to jump aboard the Bernie single-payer bus, but now it appears that they've just gotten thrown under it.