ICYMI: Cuomo's endorsement of de Blasio was painful and made no sense
It's no secret that New York's notoriously vindictive Governor Andrew Cuomo and New York City's Leninist Mayor Bill de Blasio don't exactly get along. Amid his plummeting poll numbers downstate during the transit quagmire aptly named "Summer of Hell," for example, Cuomo attempted to shift the blame to the Mayor, despite the Governor's control over […]
September 20, 2017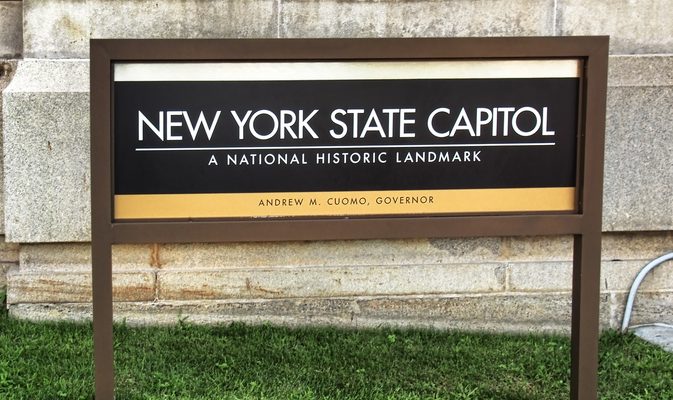 It's no secret that New York's notoriously vindictive Governor Andrew Cuomo and New York City's Leninist Mayor Bill de Blasio don't exactly get along. Amid his plummeting poll numbers downstate during the transit quagmire aptly named "Summer of Hell," for example, Cuomo attempted to shift the blame to the Mayor, despite the Governor's control over the MTA. Both de Blasio and the New York Daily News slammed the Governor's critique as "buck-passing."
Still salty from the Governor's attack, de Blasio refused to say whether or not he was backing Cuomo's bid for reelection in 2018. Ahead of this month's mayoral primary, Cuomo returned the favor by saying that as a West Chester resident, he wasn't taking a position in the race, even though de Blasio was headed for an easy win.
Bill de Blasio prevailed in the primary, as expected, but Cuomo isn't coping well with it. Check out his "endorsement" during a recent WNYC interview:
"Uh, the mayor won the Democratic primary," said Cuomo. "I am a Democrat. I support Democrats, and I'll support Mayor de Blasio in the general."
"Only because he's a Democrat in that general kind of way?" Lehrer asked. "Nothing more enthusiastic than that?"
"No, I think in this contest, life is options, they say, right?" said Cuomo. "I think in this contest, he is the better person to serve the city of New York as mayor. Period."
The tepid endorsement not only puts Cuomo's thin skin on display, but it also fails to grasp the basics of the English language. The New York Times quipped, "[I]f this were a paid endorsement, the mayor might want to consider asking for a refund." Ouch.
With 2018 and 2020 looming, the last thing Andrew Cuomo needs is another challenge to his flimsy progressive credentials. He may just learn the hard way, however, that his "free" college ploy won't be nearly as enticing to the left's radical base as de Blasio's support for the abolition of private property. The saga continues…
Keep tabs on the Democrats. Sign up for news.
Keep tabs on the Democrats. Sign up for news.