Key Democratic Group Bucks Pelosi On Tax Reform
It's no secret that House Minority Leader Nancy Pelosi (D-CA) is strongly opposed to the efforts to reform the United States' outdated tax code. In fact, a new mobile billboard by the American Action Network highlights Pelosi's opposition and how that will deprive working families of a much-needed tax cut. Given her strong opposition, it's […]
October 4, 2017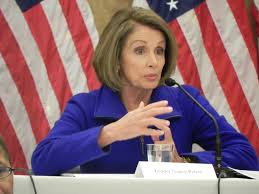 It's no secret that House Minority Leader Nancy Pelosi (D-CA) is strongly opposed to the efforts to reform the United States' outdated tax code. In fact, a new mobile billboard by the American Action Network highlights Pelosi's opposition and how that will deprive working families of a much-needed tax cut.
Given her strong opposition, it's clear Pelosi would abhor any Democrats announcing their openness to key components of the Republican tax reform plan. However, a new report in Bloomberg shows just that and hints that Leader Pelosi might be losing control of her caucus on tax reform. According to Bloomberg, the Blue Dog coalition is "embracing" Republicans effort to lower the corporate tax rate:
"A group of conservative House Democrats is embracing some elements of a GOP plan to cut taxes, potentially creating an opening for Republicans to win bipartisan support. The Blue Dog coalition, which has 18 members in the House, said it's open to lowering business taxes, the first significant sign of a crack in Democratic opposition to the GOP approach. Their position was included in a plan to be released Wednesday outlining the group's stance on taxes."
This announcement from Blue Dog Democrats is a huge embarrassment to Pelosi. It can also be viewed as the latest example of House Democrats ignoring or opposing Pelosi.
Keep tabs on the Democrats. Sign up for news.
Keep tabs on the Democrats. Sign up for news.