Two Polls In Two Days Show How Unpopular Nancy Pelosi Is
House Minority Leader Nancy Pelosi (D-CA) has long been a tremendously unpopular political figure. But never before has her brand been as politically toxic as it is right now. In the last two days Pelosi has seen poll numbers published that show she's perhaps the most unpopular politician in the country. Earlier this week, a […]
August 31, 2017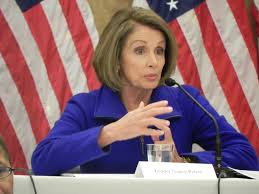 House Minority Leader Nancy Pelosi (D-CA) has long been a tremendously unpopular political figure. But never before has her brand been as politically toxic as it is right now. In the last two days Pelosi has seen poll numbers published that show she's perhaps the most unpopular politician in the country.
Earlier this week, a POLITICO/Morning Consult poll showed that her disapproval rating was at 47%. Today, an even worse poll was released about Pelosi. A new NBC News/SurveyMonkey poll found that 64% of Americans have an unfavorable view of Leader Pelosi.
Pelosi's unpopularity is so great that she's continually asked about the growing number of Democrats who oppose her continued leadership of the House Democratic Caucus. Speaking with the Denver Post, Pelosi faced multiple questions about this worrying trend:
"On Perlmutter's vote against Pelosi as Democratic leader: 'I don't care.' On how other Democrats should respond when asked whether they'll support her for leader: 'I just say to people, 'Just win your election. Don't worry about me; you just win your election,' she said, acknowledging that Republicans have used her as a issue on the campaign trail."
Meanwhile, Democrat candidate Jason Crow is likely hiding from Pelosi's praise at the same event. Already this cycle, House Democrats are distancing themselves from Pelosi. With these latest bad poll numbers, questions about whether Pelosi can stay in leadership will only persist.
Keep tabs on the Democrats. Sign up for news.
Keep tabs on the Democrats. Sign up for news.