Pelosi takes "crumbs" message on the road to MA
Today, Nancy Pelosi heads to Massachusetts to continue her attacks on the increasingly popular tax reform bill. How will she address the news that Massachusetts workers are receiving pay increases, cash bonuses, and seeing lower energy bills, thanks to tax reform? (Spoiler Alert: she will likely again deride these benefits as "crumbs"). Berkshire Hills Bancorp, Inc. Berkshire Hills Bancorp Announced […]
February 1, 2018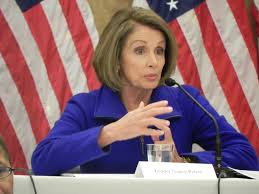 Today, Nancy Pelosi heads to Massachusetts to continue her attacks on the increasingly popular tax reform bill. How will she address the news that Massachusetts workers are receiving pay increases, cash bonuses, and seeing lower energy bills, thanks to tax reform? (Spoiler Alert: she will likely again deride these benefits as "crumbs").
Berkshire Hills Bancorp, Inc.

Berkshire Hills Bancorp Announced It Would Provide A $1,000 Bonus To Over 1,000 Employees, Raise The Minimum Wage To $15 Per Hour, Enhance Employee Development And Training Programs, And Contribute $2 Million To Its Charitable Foundation. (Berkshire Hills, "Berkshire Hills Announces Employee And Community Investments," Press Release, 1/4/18)

HarborOne Bank

HarborOne Bank Announced It Would Give A $500 Bonus To More Than 600 Bank Employees And Accelerated Its Plan To Implement A $15 Minimum Wage. (David L. Harris, "HarborOne Bank To Give $500 Bonuses To 600 Workers, Citing Tax Reform," Boston Business Journal, 12/27/17)

Eversource Energy

Some Massachusetts Customers Of Eversource Energy "Could End Up Paying Less For Their Electricity After The Energy Company Proposed Changes Based On The New Federal Tax Law." ("With Benefit From New Tax Law, Eversource Says It Will Lower Rates For Mass. Customers," State House News Service, 1/4/18)
Keep tabs on the Democrats. Sign up for news.
Keep tabs on the Democrats. Sign up for news.