Senate Democrats Want Voters To Know They're Pro-Higher Taxes
Heading into the midterm elections, one vote that should be common sense is a vote that would give voters back home the ability to keep more of their hard-earned paychecks. Yet late last week, every single Senate Democrat defied that principle, voting against a massive tax cut for the American people. The positive facts of […]
December 4, 2017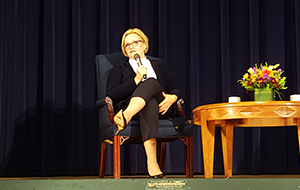 Heading into the midterm elections, one vote that should be common sense is a vote that would give voters back home the ability to keep more of their hard-earned paychecks. Yet late last week, every single Senate Democrat defied that principle, voting against a massive tax cut for the American people.
The positive facts of the Senate bill underscore the precarious political position Senate Democrats have just put themselves in. According to the Tax Foundation, the Senate bill that Democrats vote against would:
Create 925,000 "full-time equivalent jobs"
Lead to a 3.7% increase in GDP over the long term
Raise wages by 2.9%
Lower the individual income tax rates for the following tax brackets:

15% becomes 12%, 25% becomes 22.5%, 28% becomes 25%, and 33% becomes 32.5%

Raise the standard deduction from $6,500 to $12,000 for single filers
Raise the standard deduction from $12,000 to $24,000 for joint filers
Increase the child tax credit
These are the types of pro-economic growth changes that will benefit Americans across the country. However, now red-state Senate Democrats, ten of whom are up for re-election next year, are doubling down on their tax cut opposition. Most notably, Senator Claire McCaskill (D-MO), who once claimed to want to work for bipartisan tax reform, actually said that voting against the Tax Cuts and Jobs Act "is not risky":
"Missouri Sen. Claire McCaskill, who was singled out for criticism by Trump at a campaign-style event in Missouri this past week, said her vote against the tax bill — and Trump — 'is not risky as long as I do the hard work in making sure Missourians understand what's in the bill.'"
McCaskill – like other Democrats – is playing pure politics with her constituents' money. She promises bipartisanship and cooperation when back in Missouri, only to vote in lock step with Chuck Schumer when she's in D.C. Voters across the country, and particularly in Missouri, voted in 2016 to break up the partisan gridlock. In refusing to work with Senate Republicans for the benefit of Missourians, Senator McCaskill is taking a risk that neither she nor her constituents can afford.
Keep tabs on the Democrats. Sign up for news.
Keep tabs on the Democrats. Sign up for news.