These Democrats Put Violent Criminals Back on the Streets
Violent crime is surging as Democrats empty prisons and release violent criminals.
September 26, 2022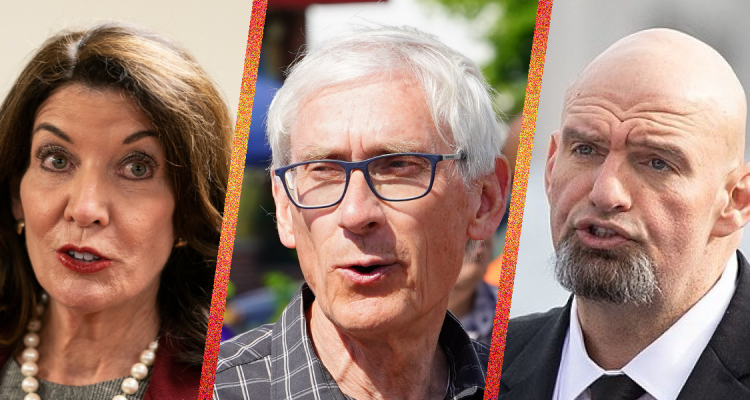 Soft-on-crime Democrats are working with progressive criminal justice reform activists to release violent offenders from state prisons. Prominent Democrats running in competetive races are responsible for the release of thousands of dangerous criminals, including convicted murderers and, cop killers and child rapists.

In New York, Governor Kathy Hochul oversaw a major transformation of the state's criminal justice system that led to an increase in violent crime. The state eliminated cash bail and reformed its parole system. Since then, dozens of cop killers have been paroled, including a member "of the Black Liberation Army terrorist organization."

New York Post: Rep. Lee Zeldin on Saturday denounced the release of nearly three dozen cop killers since 2017 and called for major reforms of the state's parole process.

"The Parole Board in New York must be overhauled. We're sick and tired of seeing these stories of cop killers being let out onto the streets," Zeldin told a small crowd gathered outside Staten Island's 122nd Precinct, where he rallied with fellow Republican Rep. Nicole Malliotakis.

Wisconsin Governor Tony Evers is also under fire for his role in releasing nearly 1,000 convicted criminals. Evers' board of pardons released 270 murderers or attempted murderers and 44 child rapists. Republican nominee Tim Michels called on Evers, who has issued the most pardons in modern Wisconsin history, to stop the practice.

Surging rates of crime and the release of violent criminals is also a major concern for Oregon voters. Republican Christine Drazan is promising to address the state's surging rates of violent crime and homelessness, in part by ending Governor Kate Brown's practice of frequently commuting criminals' sentences.

Oregon Capital Chronicle: Drazan, the Republican with the best shot at Oregon's governor's mansion in decades, is leaning hard on Oregonians' frustration with homeless camps and rising violent crime rates in her pitch to Oregon voters. . .

Drazan also said she would end Gov. Kate Brown's practice of frequent commutations. Brown used her clemency powers to release around 1,000 people from prison before the end of their sentences in 2020 and 2021.

Democrats running for Senate are defending their own soft-on-crime records. In Pennsylvania, the Board of Pardons led by Lt. Governor John Fetterman commuted dozens of life sentences, which put numerous murderers back on the streets. Senator Catherine Cortez-Masto, who is running for reelection in Nevada, is also facing criticism for her record on her state's Board of Pardons Commissioners.

The Washington Times: Ms. Cortez Masto has come under similar criticism for her work on the Nevada Board of Pardons Commissioners during her stint as state attorney general from 2007 through 2014. The National Republican Senatorial Committee, the campaign arm for Senate Republicans, is running a Spanish-language ad that says she voted "more than 75 times to minimize the sentences of violent criminals."

House Republicans have also committed to keeping criminals in jail and ensuring our neighborhoods are safe. Reducing crime and protecting public safety is a pillar of House Republicans' Commitment to America.

Bottom Line: Violent crime is surging as Democrats empty prisons and release violent criminals.

Keep tabs on the Democrats. Sign up for news.
Keep tabs on the Democrats. Sign up for news.