Corruption Trial Causes Robert Menendez To Miss 54 Senate Votes And Counting
During the many weeks of his felony corruption and bribery trial, Senator Robert Menendez's (D-NJ) alleged illicit behavior has painted him in a dreadful light. Day after day, New Jersey voters have heard about Senator Menendez's preferred water to drink on a private plane paid for by Salomon Melgen, or how many American Express points […]
October 23, 2017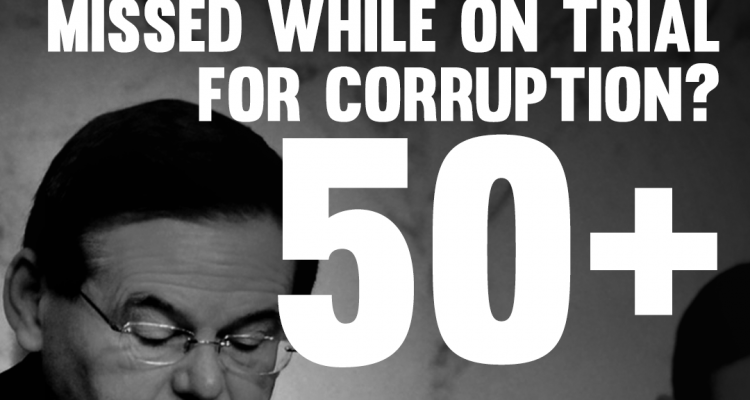 During the many weeks of his felony corruption and bribery trial, Senator Robert Menendez's (D-NJ) alleged illicit behavior has painted him in a dreadful light. Day after day, New Jersey voters have heard about Senator Menendez's preferred water to drink on a private plane paid for by Salomon Melgen, or how many American Express points Melgen used to get Senator Menendez a fancy stay in Paris. Most importantly, they've heard about the many times Senator Menendez used his power as a Senator to try and help Melgen.
As all this has gone the Garden State has been deprived of 50% of its influence in the Senate. So far, Senator Menendez's corruption trial has caused him to miss an astounding 54 Senate votes. That's 54 separate times that New Jersey has been harmed because of Senator Menendez's reckless behavior.
Another consequence of Senator Menendez's corruption trial is that it has Democrats very nervous about holding his Senate seat next year. Already Democrats are planning for an eventuality in which Senator Menendez is acquitted, yet so unpopular that they have to invest serious money in a blue state:
"A conviction likely would end his political career. But an acquittal on all or most of the charges will require Menendez and Democratic officials to decide whether he is too damaged to seek another term in 2018, when 25 Democrats and Independents who caucus with them are up for re-election compared with only nine Republicans."
Recent polls show that New Jersey voters overwhelmingly want Senator Menendez to retire, regardless of the outcome of the trial. Senator Menendez, however has said he's definitely running in 2018. Given all this, the worst-case scenario for Democrats might be a victorious Menendez at trial.
Keep tabs on the Democrats. Sign up for news.
Keep tabs on the Democrats. Sign up for news.