Groundhog Day: Rosen agrees with Pelosi that tax reform bonuses are "crumbs"
House Minority Leader Nancy Pelosi has rightfully taken a lot of heat lately for her multiple comments denigrating the significant $1,000 tax reform-related bonuses as "crumbs." Now, Congresswoman Jacky Rosen, one of Pelosi's strongest supporters in the House, is making waves by agreeing with her out-of-touch "crumbs" statements. In a conversation with theNevada Independent, the […]
February 2, 2018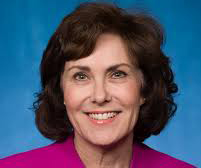 House Minority Leader Nancy Pelosi has rightfully taken a lot of heat lately for her multiple comments denigrating the significant $1,000 tax reform-related bonuses as "crumbs." Now, Congresswoman Jacky Rosen, one of Pelosi's strongest supporters in the House, is making waves by agreeing with her out-of-touch "crumbs" statements. In a conversation with theNevada Independent, the Nevada Senate candidate showed how deeply aligned with Pelosi she is:
Rosen did not dispute Pelosi's characterization of the bonuses from the tax bill as "crumbs." "In the short term companies are excited about [permanent tax cuts], but I think in the long run you're going to see companies buying back their stock, maybe hoarding capital paying back their dividends," Rosen said.
Nancy Pelosi is one of the most toxic politicians in the country. Congresswoman Rosen's effort to tie herself this closely to Pelosi is therefore a massive self-inflicted wound for her Senate campaign.
Keep tabs on the Democrats. Sign up for news.
Keep tabs on the Democrats. Sign up for news.