"Third Cuomo Son" Gets Six Years In Prison
A New York judge has ruled that Joe Percoco, former confidant to Governor Andrew Cuomo and "third Cuomo son," will be spending the next six years in prison: Joe Percoco, a former top aide to @NYGovCuomo and manager of his campaigns, is sentenced to six years in prison for trading official favors for payments. Background […]
September 20, 2018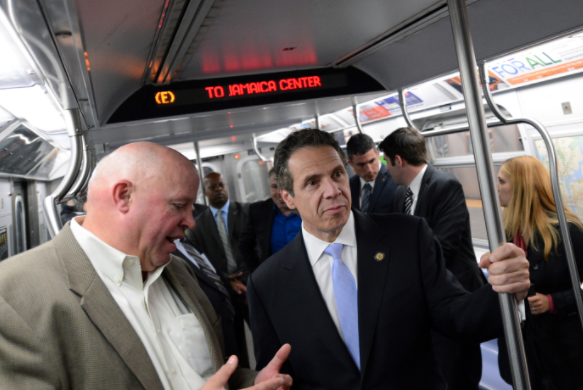 A New York judge has ruled that Joe Percoco, former confidant to Governor Andrew Cuomo and "third Cuomo son," will be spending the next six years in prison:
Joe Percoco, a former top aide to @NYGovCuomo and manager of his campaigns, is sentenced to six years in prison for trading official favors for payments.

Background —> https://t.co/sn0gEYxew4 https://t.co/fhQDMNXpYo

— Jimmy Vielkind (@JimmyVielkind) September 20, 2018
In March of 2018, Percoco and others were found guilty of conspiracy to commit honest services wire fraud and solicitation of bribes. As the New York Times details, corruption has become a prevalent theme throughout the Cuomo administration:
"If the Percoco conviction had a familiar ring to it, there's good reason: It was the first of two major corruption cases to buffet Mr. Cuomo's administration this year, and one of several to shake the state capital in his second term."

"In 2014, Mr. Cuomo was heavily criticized for interfering with and eventually shutting down a corruption commission that he himself had set up."
Cuomo doesn't seem to be phased by his administration's own wrongdoings, though, as he somehow has the audacity to try to paint his opponent as the one being corrupt in their gubernatorial race:
New Cuomo ad attacks Molinaro on corruption, saying: "You can't clean up government with dirty hands."
But you can attack your opponent for corruption on the very day one of your closest associates is being sentenced for bribery and fraud.https://t.co/Qlcjuf29wn

— Josh Greenman (@joshgreenman) September 20, 2018
This sentencing comes on the heels of Cuomo being battered in the press over a nightmare of a primary against Cynthia Nixon. The Cuomo Administration's troubles with corruption are likely to cause a headache for the governor as he gears up for a potential 2020 bid.
Keep tabs on the Democrats. Sign up for news.
Keep tabs on the Democrats. Sign up for news.