In 2020 Preview, Governor Cuomo Channels Bernie
While it's no secret that Andrew Cuomo has been longing to run for President, America Rising hasn't been fooled by his half-hearted attempts to deny it. Cuomo's obsessive focus on his national ambitions, as New York struggles with problems like a decrepit subway system and staggeringly high taxes, is one of the main reasons we […]
October 11, 2017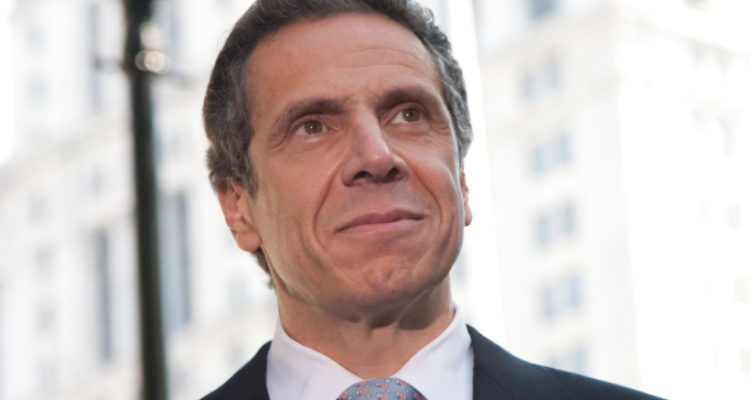 While it's no secret that Andrew Cuomo has been longing to run for President, America Rising hasn't been fooled by his half-hearted attempts to deny it. Cuomo's obsessive focus on his national ambitions, as New York struggles with problems like a decrepit subway system and staggeringly high taxes, is one of the main reasons we launched the Andrew Cuomo Initiative (ACI) in August. We felt it was necessary to hold the governor accountable for failing New York over and over again.
America Rising has long established that we have thought Governor Cuomo is plotting his 2020 plans already. Notably though, as America Rising was planning the ACI, Governor Cuomo was still phonily trying to deny his 2020 ambitions. Now at a political event in Nevada, Governor Cuomo isn't even denying it anymore:
"The governor has been traveling — to California for a fundraiser and to Nevada to speak before the national transport workers union, where he was introduced by its president, John Samuelson. 'I want to see him in 2020,' Samuelson told the crowd as they cheered. 'I want to see him take on a national voice for the Democratic Party.' Cuomo did nothing to discourage the comment, but also has never said that he's actually running for president."
Additionally, the simple fact that Governor Cuomo was even at an out-of-state political event shows the seriousness of his 2020 plans:
"In Cuomo's first term as governor, he made a point of never leaving the state, even taking vacations within its borders, saying the state is so beautiful that he never needed to leave it. He discouraged any talk of seeking higher office. Lately, though, that has changed."
Even more transparent than Governor Cuomo's obvious national ambitions is the effort he's putting into trying to repair his relationship with the far-left fringe of the Democratic Party. Earlier this year, Governor Cuomo hosted Senator Bernie Sanders for a college tuition event. And in Nevada this week he was back at it, attempting to "channel Vermont Sen. Bernie Sanders" on the issues:
"He did tell the transit workers from all around the country about his record on progressive issues in New York, like raising the minimum wage and enacting paid family leave. He seemed to channel Vermont Sen. Bernie Sanders at some points in his talk, railing against corporate CEOs, who he said now make 371 times more money than the average worker."
This year, Governor Cuomo has repeatedly neglected his day job in Albany to position himself for 2020. While he does that New Yorkers are left without a governor that places their real needs first. Governor Cuomo has shown this year he's incapable of doing that, and in 2018 New Yorkers will have the opportunity to show him the consequences of his selfishness
Keep tabs on the Democrats. Sign up for news.
Keep tabs on the Democrats. Sign up for news.